wetland Creation and enhancement
Wetland creation and enhancement is intended to assist landowners in developing livestock water while, at the same time, providing shallow water areas for wildlife, particularly breeding waterfowl.
Preferred sites will have a high proportion of shallow water and be surrounded by well managed nesting cover (native rangeland, pasture or CRP).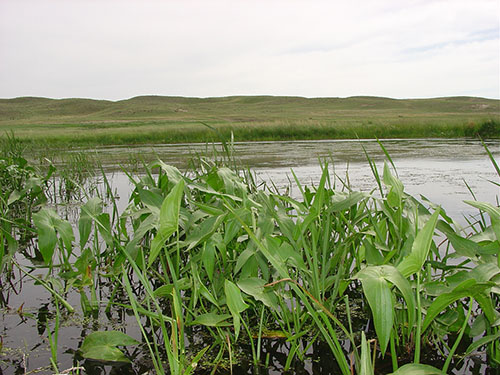 Considerations in selecting a project site include:
Watershed size
Acres of water created
Cost
Surrounding land use
Spillway sites not susceptible to erosion.
Cost share provided by GFP for embankment ponds is 2/3 of construction cost.
Consideration will also be given to existing small dams in need of repair to salvage the integrity of the embankment or spillway. Such ponds will usually have dams less than 15 feet high and water depths of 10-12 feet in the borrow area near the embankment.
Deep dams designed primarily for fishery purposes are not a priority within this program.
Dugouts, excavations in natural wetlands, wildlife watering holes, waterways, bank stabilization, or ponds designed to manage runoff from livestock feeding areas are not eligible.
GFP habitat biologists will survey, design and stake projects for construction, while assisting the landowner in obtaining all required permits. Contact one of them today to learn more.