food plots
Although food is normally available to wildlife in the form of waste grain and weed seeds, there are times when a well-placed food plot is an important wildlife management tool. Food is an important attractant for wildlife. Wildlife will often readily move to good food sources.
In order for a food plot to be effective, it must be strategically placed near dense winter cover such as cattail sloughs, woody habitat plantings and warm season native grass plantings.
Annual weeds in a second year food plot often provide an additional food and cover source. Second year food plots often have plenty of grain. If sufficient food is available in the second year, a cooperator can be paid in each of two-years for planting a single food plot. Landowners can consider planting two plots on a two-year rotation.
Below is information on state and local food plot programs. Don't forget that habitat advisors are here to help. Contact one in your area today if you have any questions on these programs.


The South Dakota Department of Game, Fish and Parks (GFP) is offering a new brood mix to help provide for wildlife in the spring and summer.


South Dakota Game, Fish and Parks Food Plot Program
The South Dakota Game, Fish and Parks (GFP) will pay $20/acre on food plots 1-10 acres in size.
GFP provides free corn and sorghum seed.
Payments of $50/acre will be given to Walk in Area cooperators.
A maximum of 10 acres per 1/4 section and 30 acre per cooperator is allowed.
Food plots must remain standing through winter until April 1 of the following year
GFP recommends food plots be planted within 1/2 mile of winter coverage to maximize value/accessibility for wildlife during winter months.
Seed may be available through local sportsman's groups or through GFP.
South Dakota law requires that reasonable public hunting be provided when habitat management funds are expended on private lands.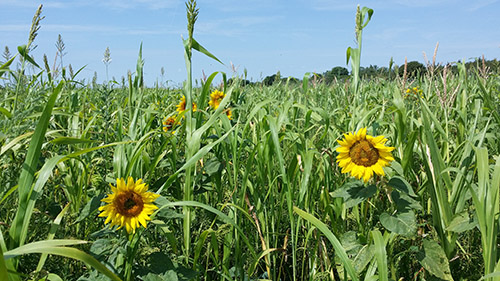 Pheasants Forever Food Plot Program
Local Pheasants Forever Chapters can also assist in providing food plot seed.