woody habitat
Below is information on state and federal woody habitat programs. For questions on any of the below programs, habitat advisors are here to help. They possess the knowledge of federal, state and local programs to assist landowners in finding the right program(s) to meet their personal habitat and land use goals.
CRP Tree Programs
Continuous CRP has multiple practices to help landowners add woody habitat to their property.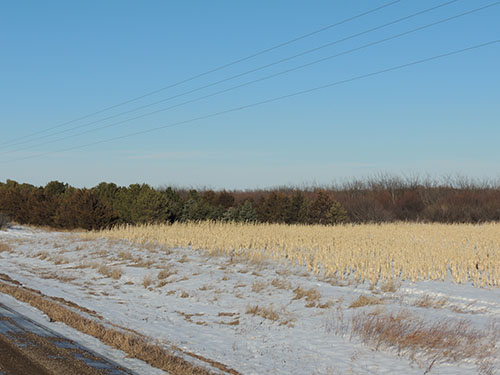 Field windbreaks, shelterbelt establishment, living snow fences, and riparian buffers all provide cost-share and annual rental payments for 10 to 15 years. These CRP practices can be paired with GFP's woody habitat program to enhance wildlife habitat.
USDA Environmental Quality Incentive Program (EQIP)
EQIP can also provide up to 75 percent cost share to establish trees for farmstead shelterbelts, livestock protection, and wildlife habitat. These tree plantings can be paired with GFP's woody habitat program to enhance wildlife habitat.
South Dakota Game, Fish and Parks Woody Habitat Program
Woody habitat is meant to increase wildlife populations by enhancing their survival. This can be accomplished with woody plantings large enough to ensure survival in the worst possible winter weather and by planting woody plant species that offer wildlife year-round protection from predators. Woody plantings can also provide food for wildlife. Most of the wildlife species of interest live on the ground and woody habitat should be designed to create cover at ground level.
Low-growing trees and shrubs should be planted in most wildlife shelterbelts, but the South Dakota Game, Fish and Parks also allows for one or two rows of tall trees to be planted in some shelterbelts for farmstead or livestock wind protection.
Learn more about the program guidelines, eligible shrub and tree species, contract life and how to apply.

South Dakota Conservation District Tree Plantings
South Dakota has 69 Conservation Districts covering the entire state that can also be of assistance when it comes to providing grant opportunities to assist with tree plantings.
More Woody Habitat Program Information